Should I Buy or Lease?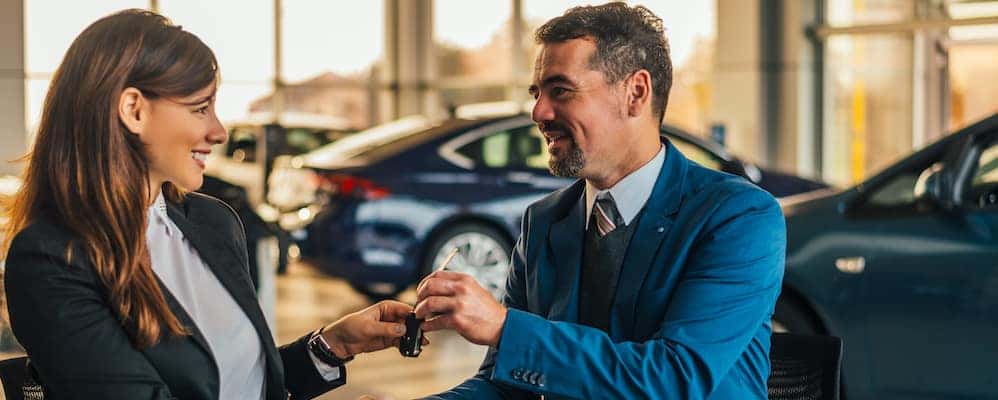 Getting ready to purchase a new vehicle for your Plano commutes includes weighing the financial options. Though there are several different ways to purchase a new vehicle, the decision generally comes down to figuring out what's best for you in the lease vs. buying discussion. Though each option offers it's own unique set of benefits, the choice is ultimately up to you and what path fits your financial situation best. Explore the different benefits of each below, and come visit Longo Toyota of Prosper with a better understanding of what you want.
Benefits of Buying
Finance Options: When you finance a car, the process is very simple. Those without perfect credit can still qualify for a vast majority of finance options. To help lower your interest rate and monthly payments, you can also refinance your loan.
Cheaper Over Time: At the beginning, buying a car costs more money than leasing. However, over time as you pay back the financed loan, you will be spending much less money. The longer you own it, the less expensive it becomes. Total Ownership: Buying a vehicle means it's yours completely. This means you are free to do with the vehicle what you please. There are no restrictions on how it's modified, decorated, etc.
No Mileage Limits: Under a lease, you'll have to obey mileage restrictions. When you buy your car, you can drive it around Frisco as much as you want, without any limits. Customization: Want to make your new vehicle stand out among the crowd? Buying rather leasing allows you to make cosmetic and mechanical changes as you see fit. Create the car of your dreams without restriction.
Ability to Sell: Owning your car means you aren't locked in an agreement that stops you from selling it. Whenever you're ready to sell, you can.
Complete Ownership: When you purchase your car, it's yours. Because you have total ownership, you're free to make modifications, cosmetic or otherwise.
Customization: Going along with the above point, owning a car allows you to craft the car of your dreams. Make mechanical changes, change the color, overhaul the interior. Whatever your mind envisions, you can do.
Benefits of Leasing
High Approval Ratings: Some people may be turned down for a car loan, but even those with poor or no credit can be approved for lease agreements.
Lots of Options: If you want the latest technology on the latest model, leasing allows you to do this. Stay current and keep driving the most up-to-date models.
Lower Sales Tax: Leasing a vehicle generally lowers sales taxes in most states. In specific areas, only the down payment and monthly payments have tax payments. Talk to our finance department to learn more!
Trade-Ins: Getting into your next vehicle once your lease is over is incredibly easy. Head over to your local Prosper dealership, address any remaining fees, then drive back home in your new car.
Lower Payments: Between the down payment and monthly payments, leasing a car will usually result in lower payments when compared to buying a car.
Warranty Coverage: Have an issue that requires service under your warranty? No worries. It's all covered as long as your within your mileage limit.
Learn More About Leasing and Financing at Longo Toyota of Prosper
Even with these tips, remember that the final decision should be based entirely on personal needs and financial situation. There isn't a direct path that every McKinney driver should take. Take time to explore our leasing and finance offers, and head over to our Prosper dealership to drive home in your next vehicle. Feel free to contact us with any questions or concerns you have.
More From Longo Toyota of Prosper
Your 2019 Toyota Camry exterior color says a lot about your style, which is why Longo Toyota of Prosper offers Frisco and McKinney car shoppers a wide variety of exterior paint colors, ranging from a bold red to a neutral gray. We've listed out all of your options below! Learn More Contact Us View Camry Inventory Toyota Camry…

The Toyota Camry and Mazda6 midsize sedans offer room for five passengers, so they are a smart choice for daily commuters as well as families. Both models have similar starting prices, but we feel the Camry offers drivers in the Plano and McKinney, TX area much more value. Longo Toyota of Prosper has the Camry…

With standard all-wheel drive, four trim levels to choose from, a high fuel economy, and a ton of technology and safety features, what are you waiting for? Get on over to Lexus Stevens Creek in San Jose to test drive the new Toyota RAV4 Hybrid. Performance The RAV4 Hybrid is powered by a 2.5-liter four-cylinder…