What is Certified Pre-Owned?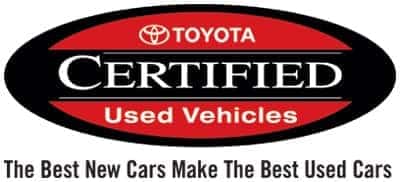 Buying a
Certified Pre-Owned Vehicle
comes with many benefits. Plano drivers who want a great deal on their next vehicle, without sacrificing quality and features, will find going CPO is the right way to buy used. As one of the few dealers in our market who certify our
used vehicles
, we know all the benefits they bring with them. You can rest easy knowing each of our CPO vehicles meets specific standards:
No more than six years off the current model year
Undergoes a rigorous 160 point inspection
Has a CARFAX history report to ensure quality
Has parts replaced if necessary
Has less than 85,000 miles
Through this, we at Longo Toyota of Prosper can guarantee you're going to get the best used vehicle possible through our Certified Pre-Owned program.
Toyota Certified Program Benefits

Toyota Certified Authorized Dealer
Non-Certified Authorized Dealer
1. 12-month/12,00-mile Comprehensive Warranty.[1]
2. 7-year/100,000-mile Limited Powertrain Warranty.[2]
3. 1 year of Roadside Assistance.[3]
4. 160-Point Quality Assurance Inspection.
5. Free CARFAX® Vehicle History ReportTM.[4]
6. Standard New-Car Financing Rates Available.[5]
7. Extended Warranty Coverage (items 1, 2, and 3 above) transferable at no cost for added resale value.
8. Reconditioned to Toyota's exact standards by Toyota factory-trained technicians.
9. Warranty honored at over 1,400 Toyota dealers in the U.S. and Canada.
11. Trouble-free handling of your transaction, including DMV paperwork.
12. All important information clearly spelled out in your contract.
The Best New Cars Make the Best Used Cars.
It stands to reason that the better a product is made the longer it will last, which makes getting a high-quality, low mileage Toyota at a great price a very savvy move.
Toyota's timeless commitment to quality, innovation, and durability is the foundation upon which the Toyota Certified Used Vehicles (TCUV) program launched in 1996. With each passing year, the TCUV program has gained momentum – totaling over three million sales and counting. This is in part to the exceptional coverage these vehicles carry:
12-month/12,000-mile Limited Comprehensive Warranty[1]
7-year/100,000-mile Limited Powertrain Warranty[2]
One full year of Roadside Assistance[3]
We are honored to be one of the more than 1,400 Toyota dealers in the U.S. and Canada that utilize this program. So when you make the drive from McKinney, you know we've got you covered.
Certification
Our certification process keeps you in mind every step of the way. The TCUV standards apply from the time a Toyota dealer acquires the vehicle through to the final sale. We don't just let any vehicle enter our CPO inventory. They are hand selected, and are vigorously evaluated to make sure they meet our standards, as well as those of our customers. Contact us today to learn more!